Substance at the Spice of Life
Saturday 14th August 2021
7:00pm
Tickets £7.00
In the Trunk
IN THE TRUNK are a recently formed band from London who blend jangly dreampop with garage rock to deliver a kaleidoscope of sound.



With the band first coming together in the small grotty rehearsal studios along Holloway Road in the summer of 2020, they have now released their debut single, 'Glue', an energetic rejection of confinements that is accompanied by a surreal and addictive music video.

Spawned out of the solo work of Archie Valentine, who had success with singles such as the hook filled 'Lovedon' and the 'Man of the Dunes' EP, the music the band now creates takes on a darker and more developed tone. They are set to put out more singles and an extended play very soon.
Sasha & The Shades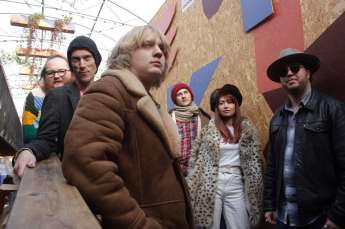 Sasha & The Shades are a five piece band from South East London. Lyrics and lead vocals by Sasha Adamczewski and Eli-Rose Sanford, supported by Tom Julian Jones on lead guitar and harmonica, Jim Dawkins on bass, and Paul Winter-Hart on drums.

Sasha & The Shades are hard to pin to one genre, but at their heart is a convergence of blue-collar rock, blues, folk and psychedelia. In any case, the strong backbeat and Texas twang are sure to get feet shuffling!

Listen out for the darkly surreal lyrics. Sasha has been songwriting since he was 7 (around the same time he met Eli). He's developed a complex poetic attitude, setting the voices in his head to music.

Sasha & The Shades 2021 EP Grin & Bare It (featuring singles Smiles and Falling) is now available on Spotify, Apple Music and band camp.
Vesu
Vesu aka Mike Bishop.

Musicians on Swimmer & Bica:

Mike Bishop - Vocals and guitars
Chris McConville - Drums
Ollie Copeland - Bass
Henry Grace
Henry Grace is a British singer-songwriter who moved to America at the age of 21 in search of a new life. Struggling with depression and determined to forge a different path, he left home and made his way to Arizona and then on to California where he started working as a musician while studying at UC Berkeley
.
He self-released two early EPs, which earned him his first radio plays, and started building a loyal following on the west coast selling out venues such as the Hotel Cafe in LA. As his time in the States continued, he made the transition from British folk singer to Americana songwriter and began to draw comparisons to the likes of Jeff Buckley, Bruce Springsteen and many of the other great American storytellers.

After five years in the States, Grace moved back home to London where he started to tour relentlessly. Playing over a hundred dates in 2019 alone, he headlined sell out shows at St Pancras Old Church and Bush Hall, supported artists such as Benjamin Clementine and Hussain Manawer and collaborated with companies such as Sofar Sounds to advocate for mental health awareness – raising tens of thousands for UK charities through live music.

His debut album is set to be released later this year.